Villa Layout
Steep stone steps bordered by lush foliage and a man-made waterfall lead down to the villa's main entrance: a large rust-red cantilevered door that opens onto a fish-filled lotus pond traversed by stepping stones.
Beyond the pond, and overlooking the pool and river, is the dining pavilion which also houses an informal living area and, to one side, the kitchen. Downstream is the open-sided TV lounge and three stand-alone bedroom suites, while upstream lies the riverside lounge terrace, relaxation balé and master suite. Two more bedrooms are located on a terrace higher in the gorge, accessed by stairs to the rear of the kitchen and master suite.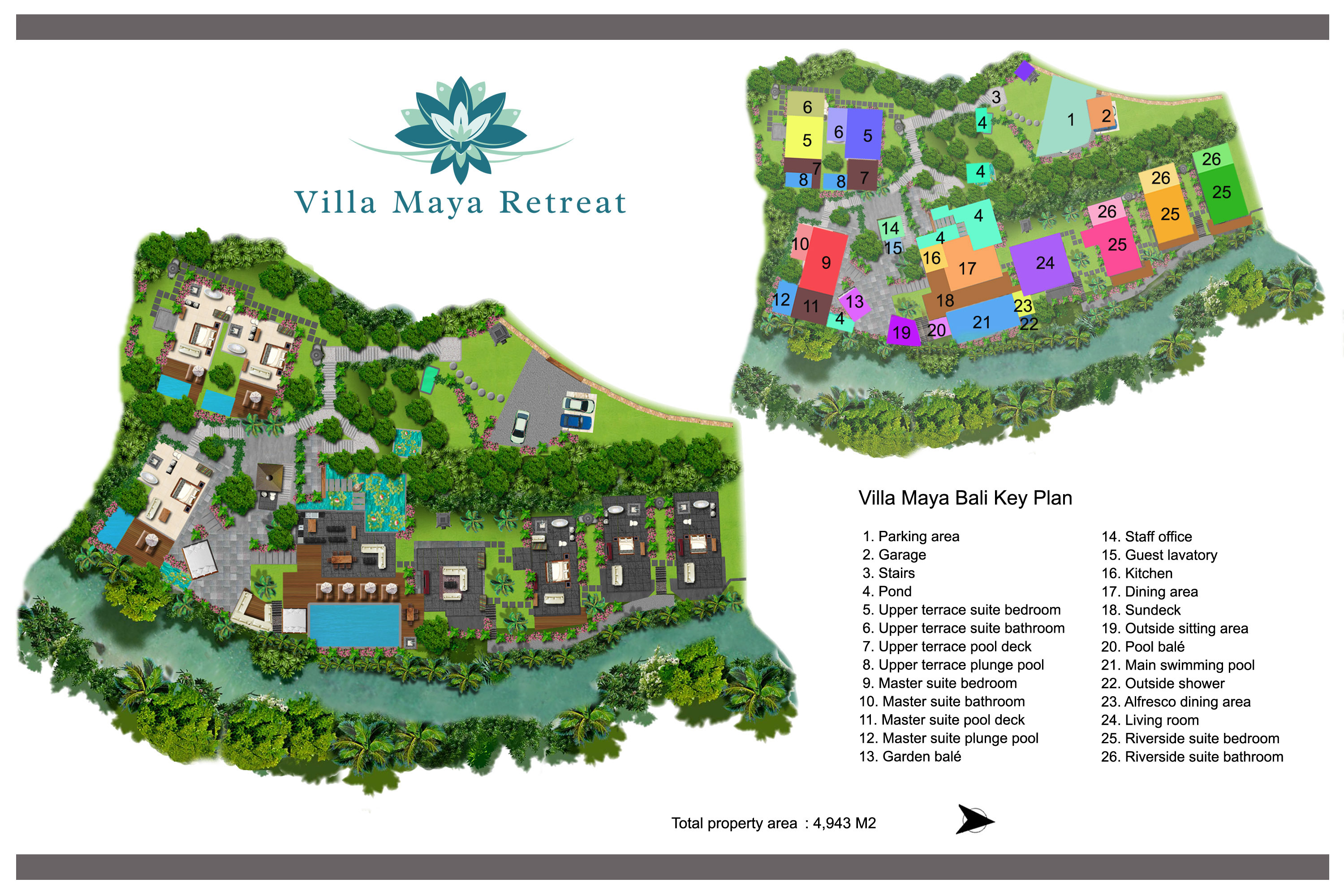 Download in high resolution
Bedrooms
All six luxurious bedrooms at Villa Maya Retreat are housed in separate pavilions with high-vaulted ceilings, polished terrazzo floors, ensuite bathrooms and individual patios to admire the views. Every bedroom is air-conditioned and features a four-poster king-size bed with mosquito net, additional ceiling fans and a small bar-fridge.
Master Suite
The master or honeymoon suite offers total seclusion with its own private garden featuring a 5-metre riverside plunge pool and sun deck. The bedroom, which has a large walk-in dressing room and a prettily cusioned rattan sofa facing a flat-screen TV, features large glass doors opening onto a sheltered patio with a comfortable daybed – just the spot for reading or bird watching. A slatted screen divides the bathroom from the garden, so guests can soak up the ambiance from the cream terrazzo bathtub or the black lava-stone rain shower.

Riverside Suites
Three guest pavilions sit side-by-side along the riverbank, offering sublime jungle views from the bed or seating area through glass bi-fold doors that open onto an outdoor terrace. The ensuite garden bathrooms with twin vanities and a black lava-stone rain shower back onto the vine-clad stone cliff-face wall, creating a jungle-cave setting. The suite closest to the living pavilion also has a terrazzo bath in its ensuite and is equipped with a TV and DVD player.

Upper terrace suites
Higher up the gorge with great views of the river valley are the two upper terrace suites, each with private plunge pool and sun terrace. A later addition to the estate, these light and airy suites are more modern in design and include black rattan sofa and table sets – perfect for afternoon tea. Both ensuite bathrooms – one semi-open, one enclosed – have tubs and rain showers.
Living areas
Facing the swimming pool at the heart of the estate, the open-sided fan-cooled thatched dining pavilion forms the social hub of the villa. A four-metre-long solid wood dining table resting on the polished concrete floor commands centrestage, complemented by ten comfortably cushioned rattan chairs. This pavilion also makes a casual living area, with rattan sofas and an ottoman arranged around a rustic coffee table and a surround-sound music system. Alongside is the fully equipped kitchen and a service bar with three bar stools according a ringside seat for sipping cocktails while watching the chef at work.
A few steps away is a second open-sided pavilion with a two-tiered roof fashioned in the style of a traditional Balinese wantilan (village meeting hall). Here, three sofas arranged around a marble-topped coffee table face a 42-inch satellite TV with DVD player and library of movies and magazines.
The 12-metre green-stone swimming pool is encircled by a large wooden deck where six loungers shaded by ceremonial umbrellas encourage supine indolence. An alfresco dining area gazes across the pool towards the batik-cushioned balé which provides respite from the tropical sun.
Suspended over the river, a party terrace with U-shaped seating makes an idyllic setting for pre-dinner drinks. Close by, a huge curtained balé is just the place to enjoy a massage, soothed by the sounds of the river. These garden living spaces invite guests to unwind, relax and admire the iridescent blue kingfishers and alu (water monitor lizards) that scale the river banks.